07 Mar 2023
The I&P Story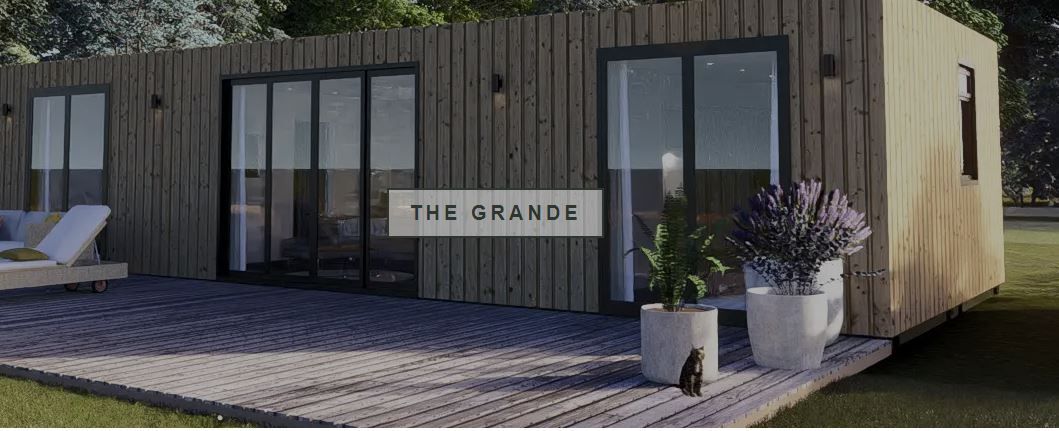 These former industrial units are being snapped up and transformed into chic countryside hideaways, comfy home offices and even food stalls and drinks bars – all from a busy workshop in Dalbeattie.
The containers are often barely recognisable from their original form after being converted by the team at Iron & Pine, which was founded in 2018.
The business is the brain- child of old school friends Luke Mazs and Alistair Fell, who have relocated back to Galloway after living and working away for several years. Sparked by a visit to Copenhagen in Denmark and seeing an office which was made from shipping containers; the idea was formed to create a business converting containers in Scotland.
"The inherent strength of the containers makes them perfect in rural and urban environments," says Luke.
The Galloway family at agri-tourism business Wigwam Holidays Wigtown were the first customers in 2018, with a container that had been transformed into a welcome bothy and storage facility for the holiday accommodation at their farm. The success of this first project led to a contract with a business park in Carlisle, and Iron & Pine has had a busy order book ever since.
The business now operates from a 16,000 square foot workshop in Dalbeattie, with a team of 14 turning around a wide range of projects for businesses and individuals across the UK.
"We have seen a surge in farm diversification, and it is amazing to provide a luxury hotel suite with a beautiful rural view," says Luke. "We really love the variety of projects Iron & Pine has completed so far, and have some really exciting projects lined up for the rest of this year and beyond"
"Each client has their own challenges, whether that's on site, planning or design, and we really love working with them to overcome any issues and ensure that the end product fits their brief and exceeds their expectations."
For everything from luxury holiday accommodations and glamorous living spaces with a view, to comfortable home offices, commercial offices, staff living spaces and retail and catering outlets the team design, craft and fit out the containers for transportation to each site.
Customers get to choose interior fittings, including top quality kitchens, bathrooms and flooring, and the containers are delivered ready to be connected and used straight away. Extras, such as roof decks and outdoor showers can also be provided. The team love turning customers' ideas into reality and by building out the units at the workshop there is minimum set up required in site and minimal disruption to clients.
"ModVillage at Kingmoor Park, Carlisle, has been an amazing project to be part of," says Luke. "We've offered office space solutions that used dead space within the existing estate. Our units were delivered and set up over a weekend so there is no disruption to the existing businesses. These chic office units offer startups and SME's affordable office solutions".
"We have also delivered to more rural areas of Scotland, where getting supplies and trades can be difficult. Our units resolve this problem for our customers as the whole build is completed in our workshop and delivered to them ready to use."
Interesting retail project have included a double-stacked gin bar, for shows and sporting events, with a ground floor bar and upstairs seating area with glass balustrade; a portable promotion unit for Ineos Grenadier: a promotional show unit for the Golf It Entertainment Village at the AIG Women's Open.
One of the exciting projects for this year is a five-container home in the Western Isles.
Farm diversification focused on holiday accommodation has been a key area for us. Early customer customers Lorraine and Ian Galloway, of Wigwam Holidays Wigtown, have now ordered four luxury holiday accommodation units, with sheltered hot tub areas, over the last two years with an additional two units to be developed for 2024. Also adding to already successful holiday accommodation business have been Gorsebank at Dalbeattie and Senwick Hideaways at Borgue.
Kilnford Farm Shop at Dumfries wanted to give customers a takeaway food option during lockdown and so the Kilnford Bothy was born, followed soon afterwards by a smaller coffee unit. In Sandhead, the Tigh na Mara Hotel wanted to cater for customers during the pandemic, and Tig 2 Go was created. It has continued to be a success.
New opportunities have come along in the last year around developing purpose-built units for staff. At Laggan near Gatehouse of Fleet, containers were turned into living accommodation for two new chefs. In Angus, a Christmas Tree farm now has a two bedroom unit and one bedroom unit for their workers.
Office space has been created for a business owner to gain a better work-life balance with a new office in his garden. Containers have also been used to help the Whiskybroker team in Creetown expand and take on more staff; and for Kevin Thornhill Motors, to create a welcoming office space for customers.
Busier than ever, the team is optimistic about the future. Luke says: "We have a lot of big plans for 2023 onwards, including expanding our current workshop, which will lead to increased staffing levels; something we are really passionate about. Last year saw us start our first apprentice and we hope to expand that offering each year.
"We are also looking at diversifying our building methods, export opportunities and continue to build on our great reputation."