Case Study: Copper Beech Glamping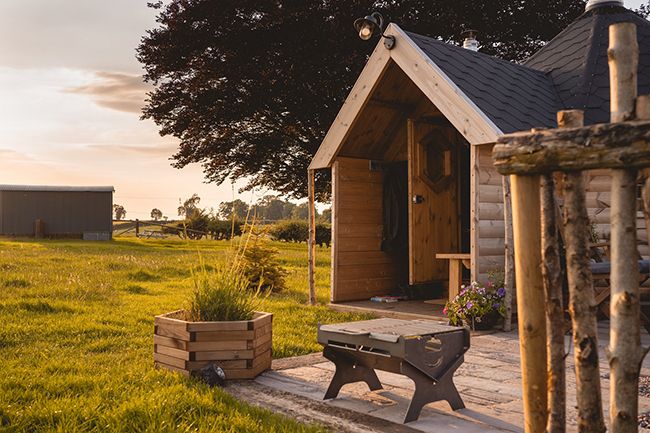 Copper Beech Glamping allows guests to reconnect with nature in their romantic cabins.
Tabitha & the team have created a beautiful, intimate glamping experience. The interiors of their accommodation link to the rural setting of this Staffordshire farm. Best of all, they have The Woodsman - one of our bespoke timber cabins.
We caught up with them to find out all about their journey with Camping Cabins & how the new additions have helped boost business...
How did you first hear about Camping Cabins?
"We initially found Camping Cabins via a Google search for 'log cabins' and got in touch with the lovely Anne-Marie. Visiting Camping Cabins at The Glamping Show allowed us to get a feel for how they would fit into our dream Copper Beech aesthetic. It was visiting the show site in Nottingham that confirmed it for us! It was fantastic to get to experience the huge range of styles and sizes of the different Camping Cabins and Studio Lodges - and everyone was so welcoming and helpful, with all questions being answered there and then. We were looking to offer our guests something a little different & the Cabins fitted the bill perfectly!"
The Business Idea
What were the reasons you were looking into additional outdoor buildings?
"We managed to acquire planning permission for 3 units and wanted them all to have their own unique look. Having already chosen a shepherds hut, we wanted something along the lines of a woodland theme to allow customers to immerse themselves in the outdoors and get away from the stresses of the everyday. Your camping cabins seemed ideal! Our cabin provides self contained accommodation for couples; featuring their own shower room and kitchenette. Even more exciting is the outdoors where we have a patio area, BBQ and wood fired hot tub. The camping cabins are so unique & just the perfect addition for us."
Challenges & Solutions
"We wanted to be able to offer a cabin where we could integrate a log burner to keep it nice & cosy during the harsh British winters. The selling point for us was the fact that Camping Cabins allowed us to adapt the design of the cabin so we could include this after it was installed. We absolutely love what we've been able to create! With the log burner and the choice of décor, it's got a really cosy feel in the Autumn & Winter. We were impressed with the quality of the buildings we saw at the Nottingham Show Site, and also that Camping Cabins were relatively local to us. Anne-Marie initially sent over some blank templates for us to draw out some ideas. We then came over to the show site and were allowed to take over the cabin size we were interested in; moving furniture around and marking it out with masking tape - absolutely perfect!"
The Result?
"Guests absolutely love their escape to 'The Woodsman' cabin and we always get fabulous feedback about how much they've enjoyed their stay with us. The whole project was handled so well by everyone at Camping Cabins - the fitters who installed it were amazing; super efficient & obviously experts at what they do. The team arrived on site and checked everything before they started. By the time I got home from work the building was up!"
The Verdict:
"It is easy to let out all year round, as it's got something for all seasons - decking with hot tub, log burner inside etc. The cabins are fantastic quality and definitely well worth the investment. We loved that we could really put our own stamp on it. We're so glad we chose to go for one & we would recommend Camping Cabins without hesitation!"
We were so delighted to hear how well their business is going with the help of Camping Cabins.